In my last blog post I wrote about the creation of Wikipedia Connection, a new student organization I founded alongside several friends at The Ohio State University. The group's aim is to educate students and faculty about Wikipedia, host events, and be a resource for anyone looking to edit Wikipedia or integrate it into the classroom setting. We've already seen Wikipedia pushed through colleges through the Wikipedia Education Program, which supports classrooms that integrate Wikipedia contributions as part of the coursework. It's a fantastic program that has sparked good content and new editors - though it is set in a formal classroom setting, and often for a grade. There has been very little going on at college campuses to bring together Wikipedians in a more casual, volunteer and sociable manner.
On September 8, 2015, Wikipedia Connection hosted its first major event: the Buckeye Edit-A-Thon. The goal of this event was to bring together Ohio State students and staff who have any interest in Wikipedia. Before planning this event, I was fortunate enough to have the chance to talk to the blue-clad Lane Rasberry and Samantha Erickson from the Wiki Education Foundation to get their insights on hosting a student-oriented edit-a-thon.
We started the edit-a-thon with an introduction geared towards new editors. In addition to introducing statistics, policy, and the how-to's behind editing, the presentation focused on explaining why people edit Wikipedia. Once the presentation was completed we dove into editing for an hour or two, with the goal of improving Wikipedia's coverage of Ohio State University and Columbus - as those two subjects are something all Ohio Staters have in common. Prior to the event, I assembled a to-do list of articles needing help with notes on what needs improving (references, grammar, wording, etc.).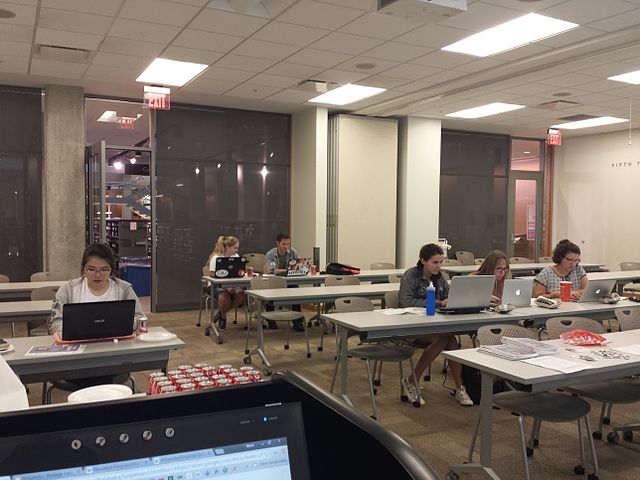 And I'm happy to say that the event went fairly well! We were prepared for a maximum of 35 participants, and ended up with 15 (a majority of undergraduate students, with a few graduate students and faculty). The strong majority of attendees had never edited, or had only edited a few times with little experience. With information from the presentation and help from others and me, editors took off editing in the 1 to 2 hours they were given. Here are some quick stats of the result of the edit-a-thon:
Attendees who have never edited: 6
Articles edited: 19
Articles created: 2
Number of edits to articles: 67
Some of the most valuable takeaways I had after the event:
General readers know very little about how Wikipedia works in the backend. Many were shocked that editing took little more than the click of the "edit" and "submit" buttons - and the confidence to do so is lacking.
Nearly everyone (if not everyone) left the event on a positive note, and the desire to attend future events.
If you bring a group of people who have an interest in Wikipedia together, Wikipedia is where their common interests end. As I stated before, the goal of this edit-a-thon was to improve Wikipedia's coverage of Ohio State and Columbus-related articles. While we mainly did contribute to those subjects through the options provided on the to-do list, some editors made their first contributions to the "recommended articles" that are given to users when they register; several others edited articles on whatever subjects interested them (including anime, video game soundtracks, and French folios).
Post-engagement is important! After the event, almost all new editors didn't edit again on their own time. I'm unsure of the exact reasons, but I imagine it's a mix: a lack of motivation as new editors, not sure of what to edit next, or simply the lack of free time. Because of this, Wikipedia Connection's next step is to keep students engaged through hosting regular workshops for students to edit, discuss ask questions, and get guidance.
The future holds a lot of opportunities. In addition to the previously mentioned workshops, we're planning on hosting more edit-a-thons. In particular, we're looking at hosting an Art+Feminism event in March. We're also exploring opportunities with various Ohio State departments, such as acquiring images and content to upload from the Ohio State Archives. As a new club, there's a lot of options for us to explore - stay tuned!